Repsol Honda rider, Marc Marquez, admitted moved after successfully locking the MotoGP world title when the race was held at the Circuit Buriram, Sunday (10/06/2019). Marquez did not think he could have locked the MotoGP title sooner, where there are still four series left this season.
"I am touched. Victory has been my target from the beginning. However, succeeding in locking the championship here, really made me feel touched and proud," Marquez said after the race.
Marc Marquez managed to finish on the main podium after being involved overtaking with Petronas Yamaha rookie, Fabio Quartararo. Starting the race from position three does not make the rider who now gets a new nickname, namely SuperMarc is outdone.
The 26-year-old rider easily passed Maverick Vinales who started the race from the second grid. Marquez had a little trouble following Fabio Quartararo who benefited by starting the race from pole position.
However, Marquez managed to force Fabio Quartararo to finish in second place on the last lap. The Spanish rider managed to record a victory as well as locking up his sixth MotoGP title throughout his career.
The Repsol Honda rider was firmly on top of the standings with 325 points. By leaving four more races in the 2019 season, Marquez could no longer be overtaken by his competitors, especially Andrea Dovizioso, who had collected 215 points, 110 points behind Marc Marquez.
Praise for Fabio Quartararo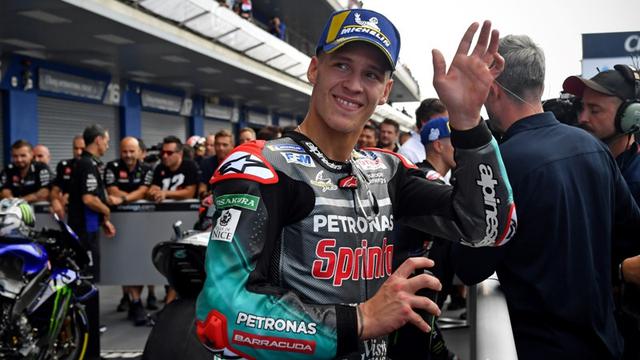 In his interview with reporters, Marc Marquez also offered a line of praise to Fabio Quartararo. Marquez admitted he had quite a hard time chasing Quartararo at the start of the race.
"Fabio is very fast. I have quite a difficulty overtaking it, especially when round the corner. However, the results of the last lap benefit me," said Marquez.
Not only Marquez who managed to steal the attention in the 15th series of the 2019 MotoGP event. Quartararo also called deserves appreciation.
The 20-year-old rider managed to make Marquez overwhelmed. Entering the 11th lap, Quartararo began to widen his distance
SuperMarc managed to overtake Quartararo several times, but El Diablo managed to turn things around.
The Quartararao effort must disappear on the last lap. Marc Marquez succeeded in driving the Honda RC213V well and made him lock the 2019 MotoGP title and win the Buriram Circuit.
Read Also: The 2019 MotoGP Champion, Here Are Marc Marquez's Records Throughout His Career